Electronic trial support services
Deposition synchronization
Exhibit presentation
Courtroom set up
In-trial technicians
Equipment
Exhibit preparation
Witness preparation, and more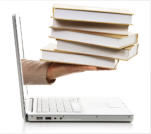 Data Management

Our data management services will help you organize and manage your document collection effectively.
We start with your data:
Paper and Historical Files: This includes virtually all types of paper documents, whether a banker's box, millions of pages, photographs, large maps or blueprints.
Electronic Files: This includes varied document types such as .doc, xlsx, PDF, MPG and hundreds of others, as well as email and ESI (electronically stored information).
Data is processed for retrieval:
After processing, the result is an index with easily accessible files. We also offer document coding services to capture additional data.
eDiscovery
We can process email files and loose electronically stored information (ESI) to any of several formats. We are happy to talk with you about options!
We can also provide a point in time snapshot of email, mobile devices and hard drives.